5 key takeaways from the WeAreDevelopers Conference
Two weeks ago the WeAreDevelopers Conference took place in our hometown Vienna. More than 3000 Developers joined the conference to hear talks From Joel Spolsky, CEO of Stack Overflow and CoFounder of Trello, Håkon Wium Lie, inventor of CSS and Rasmus Lerdorf, inventor of PHP, to name only 3 out of >70 speakers!
With such huge names in town, our development team could not stay in their office seats and decided to join the conference. So Philipp, Martin, Jonas and Peter joined our CTO Daniel, who had been a speaker last year, to meet their role models, exchange ideas and chitchat with other developers!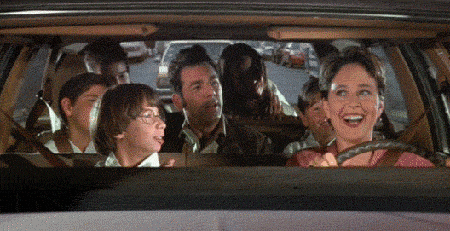 1. Golden Days
Our dev team may not be the youngest anymore ( ;) ) but still, they were entertained by hearing the story of John Romero, CoFounder of id Software, and his college students sharing floppy disks instead of a subversion tool like GitHub.
"They even had to write their own tools/editors for the games they made, because they didn't have any choice back then" (Peter)
You can see how much the everyday life of a developer has changed over the past 30 years!
2. Even Google started with a few lines of code.
"It was very inspirational, to hear the success story of Felix, the austrian wunderkind, Krause and fastlane from first hand" (Martin)
Fastlane started as a small project and has now more than 13.000 commits, 650 contributors and 40+ branches. That huge outcome of something started with just a few lines of code shows us that with smart products and well written code, everything is possible nowadays! 
3. But plans change..
Like Rasmus Lerdorf had different plans with php in the beginning. He wanted it to be a simple templating language with a nice api to write business logic in C.
"But the world disagreed, nobody wants to write code in C. They wanted to do everything in the stupid templating layer.Writing C Code is hard, you have to figure out pointers and stuff." (Rasmus Lerdorf)
During that words, our JS WebDeveloper Jonas tried to avoid eye contact ;)
4. Well structured codes pays off
Another highlight was the talk "Refactoring CSS Without losing Your Mind" by Harry Roberts, a Google Developer Expert, where he pointed out that continuous refactoring is essential for a sustainable code base and is an investment worth the effort. A mindset we strongly encourage here at Anyline. One quote we will keep in our minds:
"As a developer you always have a second chance to make your code more perfect, become a better developer and keep trying to do that everyday" (Harry Roberts)
5. How php7 could save the world
The biggest impression left Rasmus Lerdorf, when he suggested that if everybody would migrate their code to php7, the world could save 15 billion kW/h and produce 7.5 billion less CO2. Unfortunately the migration rate is currently only at 5%!
Rounding up the conference, our Devs really enjoyed their two days off at the WeAreDevelopers and came back with inspirational stories of their role models they were able to meet face to face! They also brought in new ideas how to overcome obstacles on they way to fulfill our vision at Anyline and many new impressions of what other great developers are working on! So if you have a chance to visit the next WeAreDevelopers Conference, our team definitely recommends for you to go check it out!
QUESTIONS? LET US KNOW!
If you have questions, suggestions or feedback on this, please don't hesitate to reach out to us via Facebook, Twitter or simply via [email protected]! Cheers!
Sign up for our Newsletter!
Be the first to receive the latest news, release notes and updates!