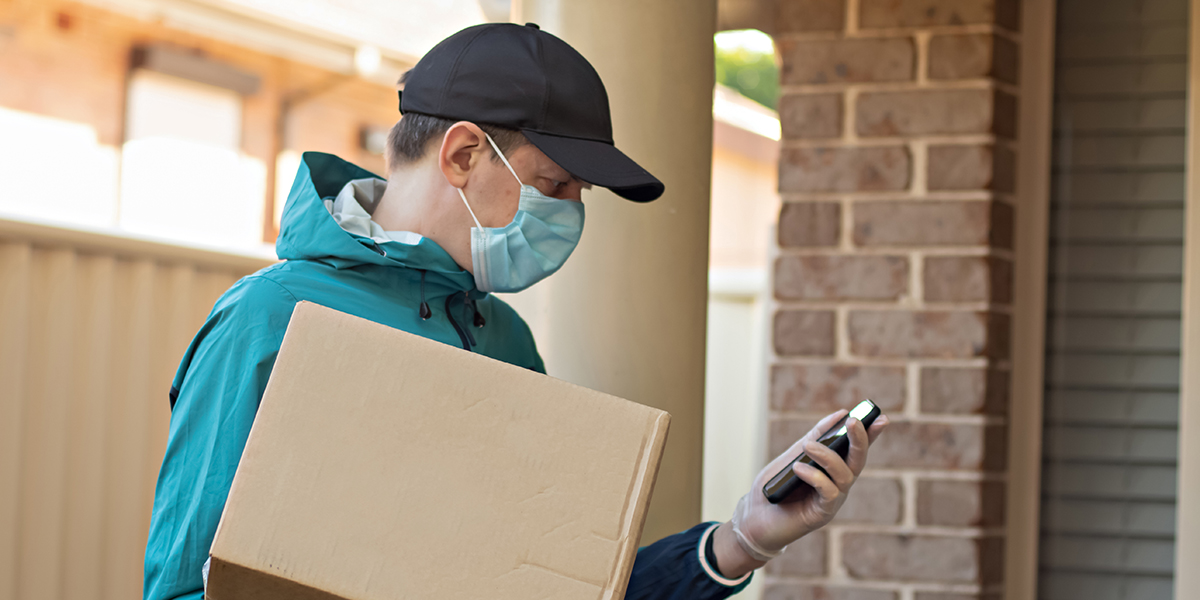 Optimizing Contactless Delivery is Imperative for Post and Parcel
People are social by nature, but the threat of the Coronavirus has compelled many people to isolate themselves. This change in lifestyle has driven millions to arrange for their everyday necessities, from medicine and food to clothing and office supplies, to be delivered to their homes. The high communicability of the Coronavirus and its lethality among certain high-risk populations have compelled package recipients and delivery enterprises to demand contactless parcel delivery.
Contactless delivery is an established workflow for most post and parcel delivery enterprises and they are using it more than ever. Bloomberg recently reported that in response to the coronavirus pandemic, FedEx Corp. and United Parcel Service Inc. have dropped the normal signature and identification rules for most package deliveries to protect customers and workers. This process in many cases makes sense: customers want orders delivered with no physical contact and post and parcel delivery enterprises to want to reduce the risk of infection by limiting contact with customers and people they meet throughout the delivery process.
On the other hand, contactless delivery can present costly challenges for post and parcel delivery enterprises. First, many of the packages being delivered without requiring confirmation are perishable like food items or restricted like medication. In these instances, not requiring identification goes against the grain of consumer sentiment. A recent Anyline Survey of 500 consumers of last-mile delivery services in the US revealed that three out of four Survey people agree or strongly agree that high-value packages like medication or perishables should require identity confirmation by the delivery organization. Seven out of ten survey respondents agree or strongly agree that restricted packages (e.g., alcohol) should require identity confirmation of the recipient.
Historically, contactless delivery has meant that the driver simply drops parcels on a doorstep. As we have seen, unconfirmed contactless delivery is not popular with consumers particularly with medication and perishable items. In fact, it may actually be cost-ineffective in the end. In prior workflows, deliveries of prescription drugs, alcoholic drinks, and expensive or sensitive packages often required that customers physically hand over their driver's licenses or other valid IDs. One of the greatest challenges for post and parcel businesses is creating a low-cost contactless delivery workflow that ensures the parcel reaches the customer safely and in good order. In-person communication between customers and drivers can still happen, but it needs to be at a safe distance. Fortunately, there is a technology that supports it. Today, post and parcel enterprises can develop a contactless delivery process that maintains regulatory compliance, without requiring any physical exchange between the driver and recipient.
Most delivery drivers use traditional scanning devices to scan barcodes on parcels to demonstrate that a package has been delivered. Some traditional barcode scanners can capture photographic proof that a package was dropped off at its final destination. These dedicated barcode scanners are incapable of capturing a recipient's signature nor can they capture a recipient's identification at a safe distance.
The most efficient, cost-effective, and safe way for post and parcel enterprises to capture identification credentials for proof of delivery is to equip delivery drivers with smartphones featuring barcode- and optical character recognition (OCR)- enabled mobile apps. Anyline technology integrated into a mobile app turns the camera on any smartphone into an enterprise-grade barcode- and OCR-scanning machine. A driver can get a parcel recipient's attention and at a safe distance, scan their identification, and record proof of package delivery without any physical contact. The driver may leave the package, walk away, and let the recipient collect the parcel safely.
A "bring your own device" (BYOD) policy enables drivers to use their own smartphones and the Anyline-powered mobile app to capture recipient IDs and complete deliveries at an even lower cost. Anyline technology is super-easy to integrate and requires absolute minimum training for users to start scanning.
Not only is safe, contactless proof of parcel delivery efficient and affordable, it's also good business. In the Anyline Survey, three out of four consumers reported that having an unacceptable delivery experience affects their decision to continue doing business with the delivery company or the enterprise from whom they acquired the item.
This data suggests that brand loyalty in Last Mile post and parcel delivery is a real thing and the delivery companies' ongoing ability to provide a great experience for consumers drives loyalty to the delivery company and to the enterprise that employs it.
Let Anyline help you to take your last-mile delivery workflow to the next level and delight customers and end-users alike. Get a demo app or contact us to learn more.
Contact us to see the full results of the 2021 Anyline US Logistics Survey referenced in this post.