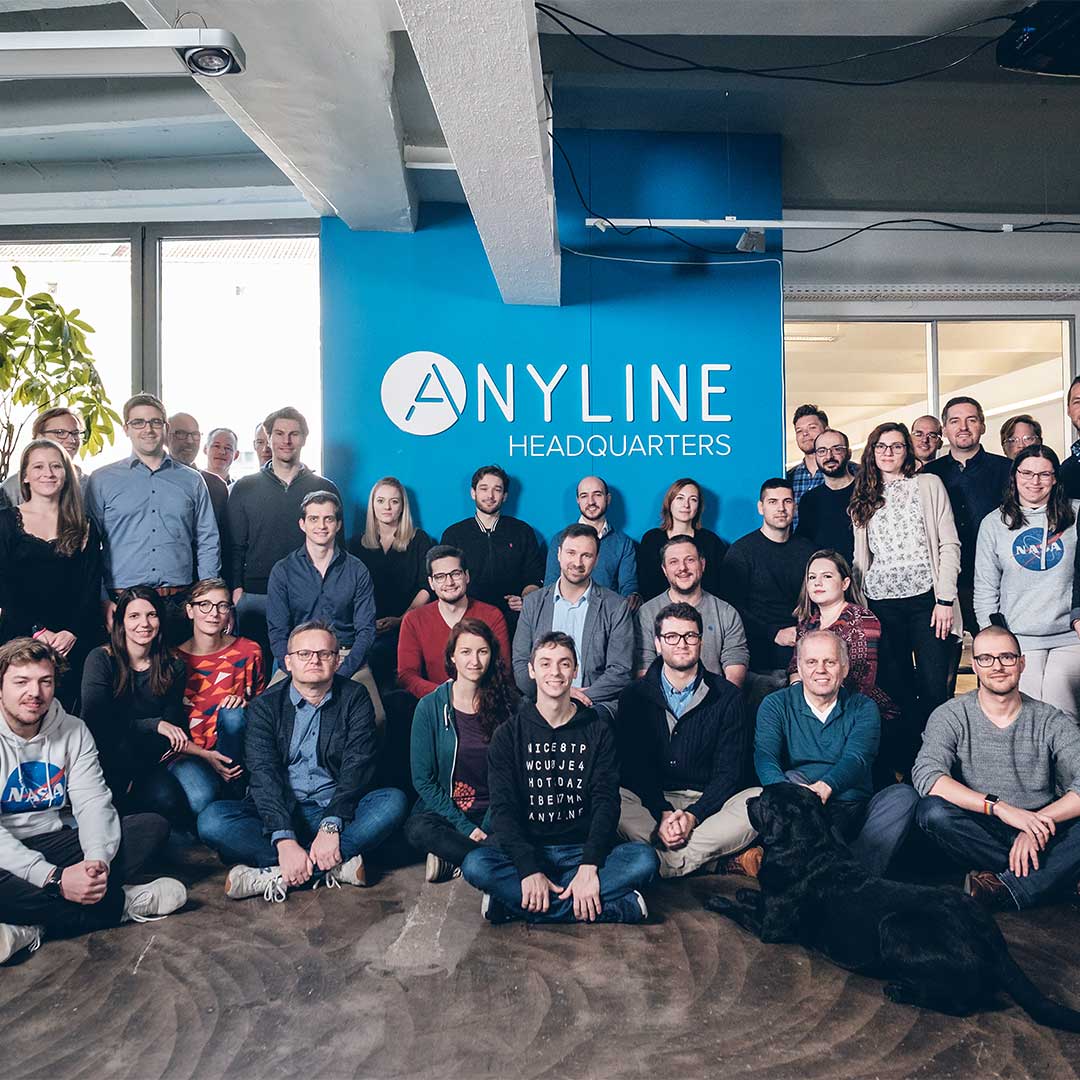 How to Reach Your Full Potential Working at Anyline
At Anyline, we're serious about developing the talents within our team. We pride ourselves on providing cutting edge solutions to our customers, and the team behind these solutions needs to be just as sharp.
Whether a team member needs additional training, professional support or the chance to blow off steam every so often, we strive to make working at Anyline as beneficial as possible for all our team members.
Check out some of the ways we're developing our team and find out how you can come onboard. We're always on the lookout for new talents to help us push our company forward!
Sending Anyliners to the Best Events in Their Field
Events can be a great place to learn more about the happenings in your field and find ways to further develop your skills. At Anyline, we do our best to send our team members to the leading events for their professional field.
The dev team have been regular guests at WeAreDevelopers over the past few years. This local event is one of the biggest developer conferences in Europe and hosts featured speakers like Steve Wozniak and game developer John Romero. In addition, our sales and marketing team members regularly travel to events within our target industries to get an even closer look at the players and ecosystems they need to navigate. In 2018, Anyliners have attended E-World in Germany, the IACP Conference in the US and the International SAP Conference for Utilities in Portugal.
We're always getting ready to send people to more events and as a fast growing AI company, there are more and more cool events popping up all the time.

Amazing Guest Speakers at Our Office
And if we can't send our team members to the best events to hear the most awesome speakers, we bring the speakers to us!
Our most recent guest speaker was Alexander Pointner, the most successful ski jump coach of all time. Alexander spoke to the team about how to perform at the highest level and what it means to embrace change in search of better results. The great thing about having speakers like this come into the office is that they can hang around after the talk to answer even the most detailed questions.
Talks like this can be a great way to gain actionable insights from experts in their field. At the very least, it's a great way to meet one of Austria's sporting heroes!

The Best Mentors to Guide Our Team Members
One of the biggest things we can do to help our team members develop their careers is to find them experienced mentors. Mentorship is a great way to improve professional development and can be key for young professionals finding their feet in a rapidly changing industry.
Mentors at Anyline have worked at some of the biggest and most successful companies in the world such as Cisco, IBM, T-Mobile and Erste Bank. They regularly visit the Anyline office to provide 1:1 mentoring and assist in establishing best practices throughout the company.
Gaining a mentor can be a crucial step in the development of your career. At Anyline, we're not only lucky to have mentors, but thanks to our experienced management and board of investors, we have access to some of the best mentors possible.

We Make Sure Everyone Has a Career Plan
What good is it developing our team members if they don't have a solid career plan?
At Anyline, we're constantly looking for people to improve our teams. But we also want to know where our current team members will be in a year's time. That's why everyone at Anyline is required to have a career plan that lets us know how our team will look in the future.
As the company grows, there are more and more areas of responsibility that need to be filled. This creates a lot of room for our team to develop themselves and decide what kind of projects and responsibilities they'll have in the future. On top of that, it lets us know what kind of mentorship they'll need and which events they should attend.
Best of all, it means that Anyline team members get to take on projects and responsibilities that may not be open to them in a more corporate setting. Our current chief revenue officer, Matthias Gasser, started at the company as a developer but found that he was better suited to working with customers. Thanks to his career plan, he now coordinates all sales activities for the company.
With a good career plan and the right guidance, we've helped Anyliners to fulfill their potential without sending them back to school or spending a fortune on professional development.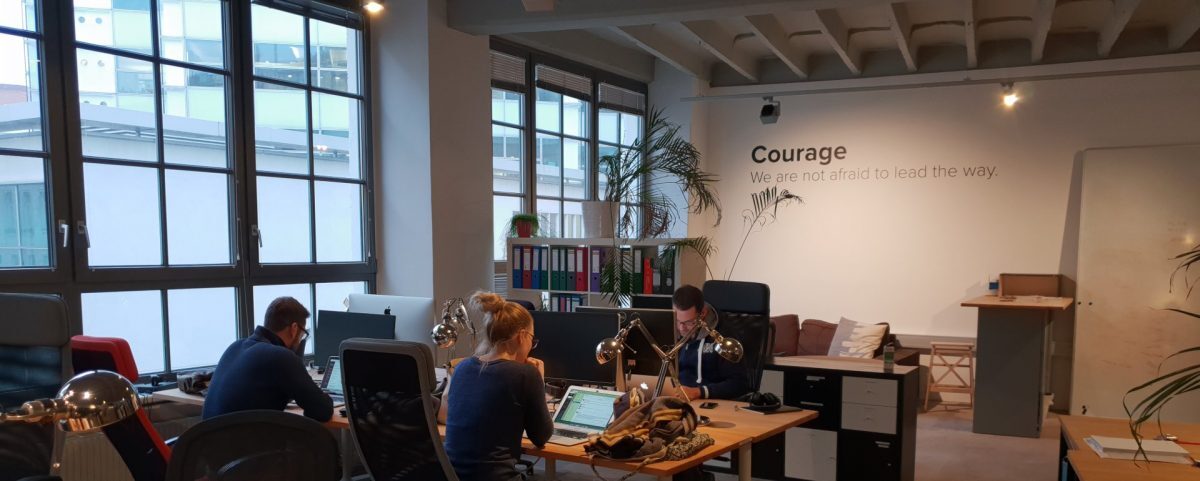 Our Office Environment Caters to All Needs
While we're focused on developing the professional skills of all Anyline team members, we also understand that personal development is just as important.
We have a dedicated environment team that takes care of making the Anyline HQ at Die Manege a welcoming and productive place to work. As a result, the Anyline office offers a number of different ways to work and a flexi-time schedule so personal development never takes a back seat.
And of course, working from home or satellite locations is an option too. Whether you like a traditional desk, a standing desk or maybe a bench or couch, it's important that every Anyliner feels like they have an optimized place to work.
Perhaps one of the most liberating things about working at Anyline is the flexi-time approach to timekeeping. We understand that being locked up in an office from 9-5 every week isn't practical for such a young company. Instead, we allow Anyliners to manage their own hours.
Since Anyline first started, we've had a commitment to helping our team members to be healthy and happy in the workplace. As a result, you can enjoy freshly prepared lunches in our office on a weekly basis. We have two regular chefs who offer fantastic Italian and Nepalese dishes, with vegetarian choices also catered for. Alongside that, we keep a fully stocked fridge full of free drinks for the team and everyone can make use of our fully equipped kitchen to prepare their own meals whenever they like. We also have fresh fruit served on a daily basis!
There are exercise options in the office too with a functional training session lead by a professional trainer every week. And with at least one Anyliner in training for a triathlon, marathon or ironman at all times, there's no shortage of running mates if you want to take a quick run along the Danube after work.

Every Anyliner Gets 5 Personal Days a Year
We wanted to show our commitment to helping Anyliners become their best selves. That's why every team member gets 5 personal days per year to develop themselves. These days can be used to attend a course to improve professional proficiencies, to knock items off your bucket list, or anything else that you feel will help you grow and perform better when you return to the office.
These days are great for recharging your batteries or motivating yourself to take things to the next level when you return to the Anyline team. Best of all, the Anyline team is always waiting for your return and to see how your personal growth can positively affect the whole team.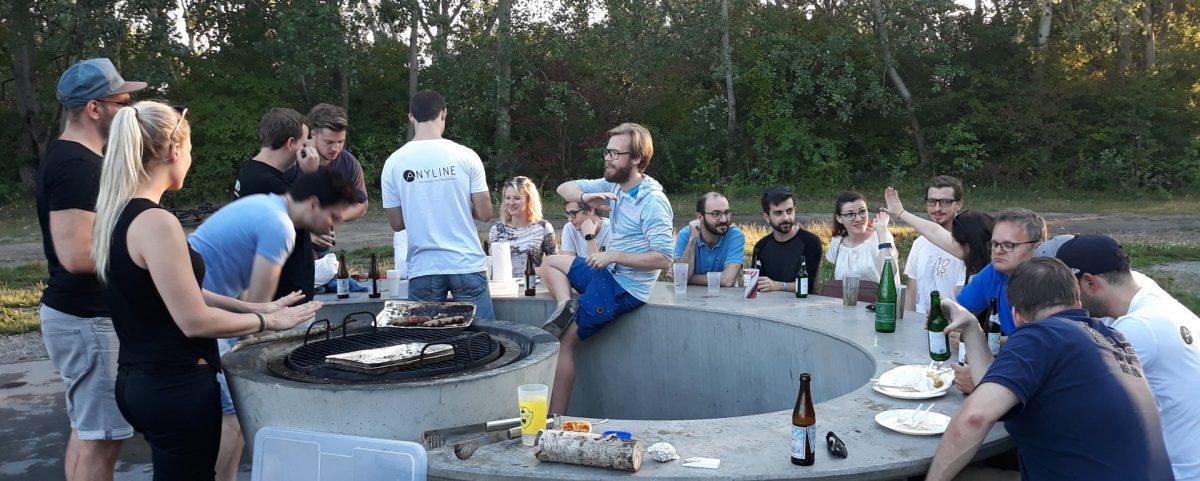 Taking the Time to Celebrate Hard Work
In addition to personal and professional development, we believe in team development. And the best way to develop teams is usually to let off some steam after a hard day's work. That's why our organisational team is always working on the next afterwork event.
We celebrate all year round with paintballing, hockey matches, summer barbeques, dinner on thanksgiving, an awesome Christmas party or just a few drinks after one of our monthly computer vision meetups. These events are a great way to bring the team together and help us to find new ways to improve the way we work with each other.
Best of all, this helps us to develop the strong company spirit that makes working at Anyline awesome every day!
Ready to Join the Anyline Team?
Feel like you want to become an Anyliner? We're always looking for talented people to join our team. You can see all of our current vacancies listed in our job section. If you'd like to apply for a position that's not currently advertised, we'd love to take a look at your CV as well – let's get in touch!