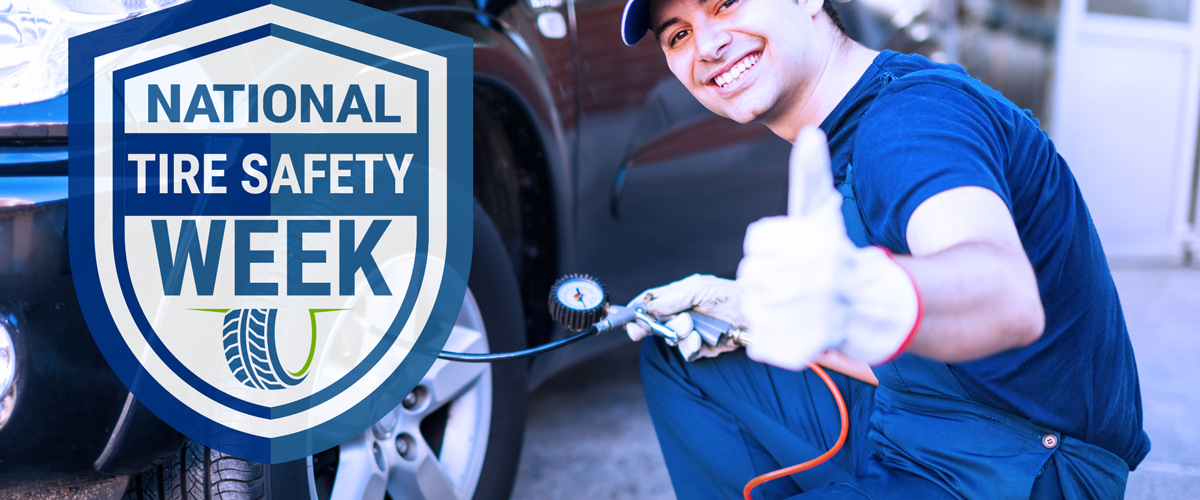 Anyline Partners With the U.S. Tire Manufacturers Association To Improve Tire Safety Awareness
National Tire Safety Week Promotes Proper Tire Care, Making Roads Safer and Saving Lives
VIENNA –  June 26, 2023 – Anyline, a global leader in mobile data capture and data insights, today announces its partnership with the U.S. Tire Manufacturers Association to promote tire safety during National Tire Safety Week, taking place June 26 – July 3. Alongside the U.S. Tire Manufacturers Association, Anyline aims to boost tire awareness to improve overall road safety.
According to NHTSA, worn-out tires are three times more likely to be involved in a crash than tires with sufficient tread depth, making tire maintenance crucial to improving road safety.  National Tire Safety Week brings heightened awareness to drivers with simple steps for proper tire care and maintenance that are essential to road safety.
"Tires play an essential role in road and highway safety, and USTMA companies are continuously working to build even safer and more sustainable products.  Every component of a tire's complex design is carefully crafted and serves a unique purpose to ensure tire safety," said Anne Forristall Luke, USTMA president and CEO.  "Each year during National Tire Safety Week, we remind drivers and fleet operators to check their tires and perform simple but important maintenance practices to protect themselves and the integrity of their tires."
"Our research shows that 47% of Americans knowingly drive on bald or severely worn-out tires, and 46% have experienced a tire blowout while driving," said Lukas Kinigadner, CEO and co-founder, Anyline.  "By partnering with the U.S. Tire Manufacturers Association, our goal is to promote tire safety and educate drivers – not only during National Tire Safety Week, but all year long."
As part of the initiative, the U.S. Tire Manufacturers Association encourages drivers to play their "P.A.R.T." in tire care.  The acronym stands for pressure, alignment, rotation and tread, and is meant to encourage drivers to regularly check on these aspects of their tires.  Anyline also seeks to motivate drivers to stay on top of tire recalls.
With computer vision and AI-enabled technology, Anyline's mobile scanning solution allows tire service centers, manufacturers, distributors and retailers to quickly capture tire, automotive and customer information from any mobile device.  During National Tire Safety Week, Anyline is offering 60 day free access to its Tire Inspection solution.  For more information, visit https://ocr.anyline.com/tire-safety-week. To learn more about National Tire Safety Week, visit https://www.ustires.org/ntsw.
About Anyline
Founded in Vienna in 2013, Anyline has established itself as a global leader in mobile data capture and data insights. Using the latest, most innovative artificial intelligence and machine learning approaches, Anyline gives businesses the power to read, measure and interpret visual information with any mobile device.
Anyline is used by frontline workers at leading automotive and tire manufacturers and retailers to quickly and accurately scan tire sidewall, tread depth and vehicle data, including tire DOT codes, vehicle identification numbers (VINs), license plates and barcodes, using any standard mobile device or camera-enabled automotive diagnostic devices.
Anyline helps businesses to move away from costly, tedious manual processes and instead, make them easy, fast and convenient for everyone, from the end user to the frontline worker. Anyline's mobile data capture technology is CCPA/GDPR compliant, ensuring that all data collected is processed and stored securely. Anyline is trusted by household brands such as PepsiCo, Discount Tire and IBM, as well as national governments and the United Nations.