How Innovapptive Improves Efficiency & Customer Service with Mobile Scanning
In this guest blog, Richard Sandall from Innovapptive explains how mobile scanning unblocks 3 key warehouse bottlenecks - improving both productivity and customer service.
Since we founded Innovapptive back in 2012, it's fair to say supply chain management has gone through a digital revolution, and we're proud to play our part in this for businesses around the world.
However,  where the four walls of the warehouse interface with the outside world, there are still blind-spots, or 'digital divides' where products, data, and ultimately revenue are slipping through the cracks.
Many warehouse operations are still compromised by incompatibility between suppliers and customer systems, a continued dependence on paper-based systems, and overall poor data quality.
I see 3 points in most common warehouse operations where mobile scanning with OCR (optical character recognition) can bridge these remaining digital divides, unblock the bottlenecks and keep supply chains moving faster.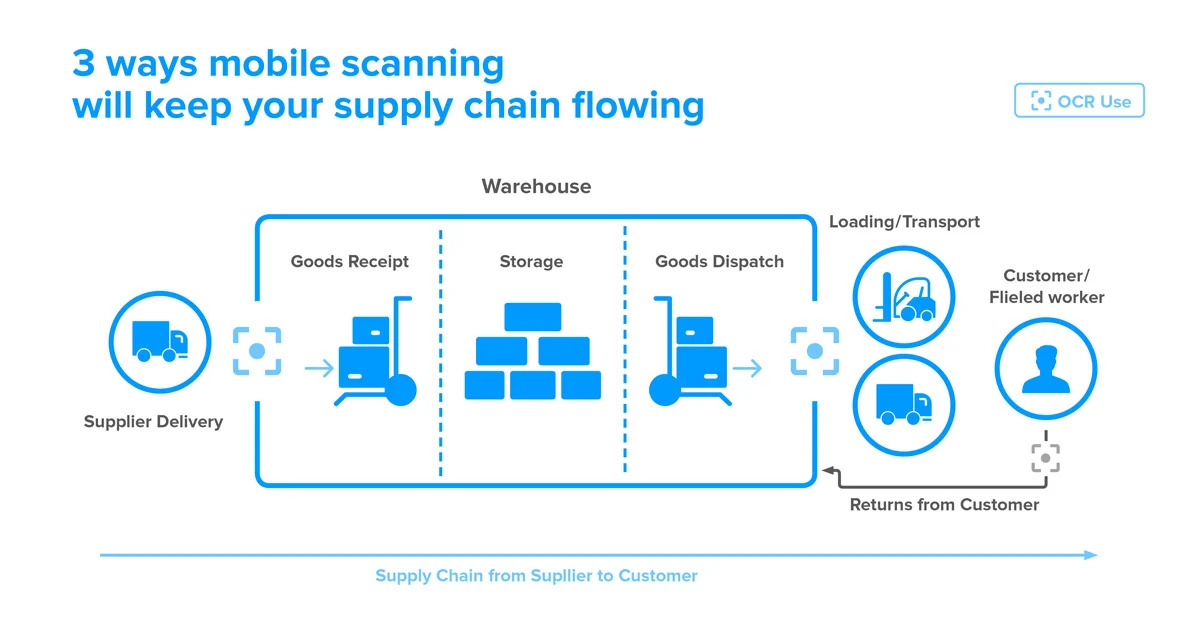 Goods Receipt
A poor goods-receipt system can turn your supply chain into a house of cards. A few mistyped mistakes at delivery can set off a chain of costly issues that are far more difficult to resolve later on. These include stock discrepancies, unnecessary reorders and workforce hours lost to troubleshooting.
The problems begin with manual data collection.
When a delivery arrives, multiple pieces of information need to be recorded, including the Purchase Order (PO) number, the Bill of Lading numbers, and manufacturer's serial number – the Direct Parts Marking (DPM),  which is embossed on the material.
Finding and recording these codes manually isn't just time-consuming, it's also a hotbed for human error. That means data often gets corrupted from the get-go. And then there's the issue of organizing all the paperwork that comes with each delivery: the delivery note, packing slips, certificates, customs documentation…inevitably, some will get lost through processing.
This is where mobile OCR makes the difference. By simply scanning the PO number, the DPM, and making digital copies of all the paperwork, businesses can remove the chance of data errors and loss.
And by using Innovapptive's mInventory mobile app, this data can be brought together into a single, coherent solution that integrates into your ERP system. 
The result? An accurate, optimized goods-receipt system. 
Loading and Transport
When products are ready for dispatch, mobile scanning can be used at two key points to make sure they are delivered securely to the right destination.
Firstly, during vehicle or trailer loading, your workforce can quickly record the vehicle license plate – and if necessary for security – the driver's license. This information can then be easily added to the shipment document, waybill, or manifest which accompanies the vehicle.
Another layer of verification can be added when goods are being shipped internationally. During this loading process, mobile scanning can also be used to record the container number, which is then added to the shipping documentation. 
Using Anyline offers a further advantage in these situations. As all the data is processed directly on the user's mobile device, there is no need for an internet connection to start scanning. This allows your workforce to digitize the data they need anywhere and at any time. 
Returns
Returns of products from customers or field operatives are notoriously difficult to control. This can be particularly complicated when dealing with spare parts operations, as items are often returned without their accompanying paperwork. 
With mobile scanning, this issue can be entirely avoided. Even without paperwork, parts can be identified by simply scanning the serial numbers embossed on them. 
Conclusion
Innovapptive works closely with our partner Anyline to integrate the full range of OCR capabilities into our mInventory mobile solution for warehousing and inventory control. Overcome these common bottlenecks and move your warehouse to the next level of efficiency!