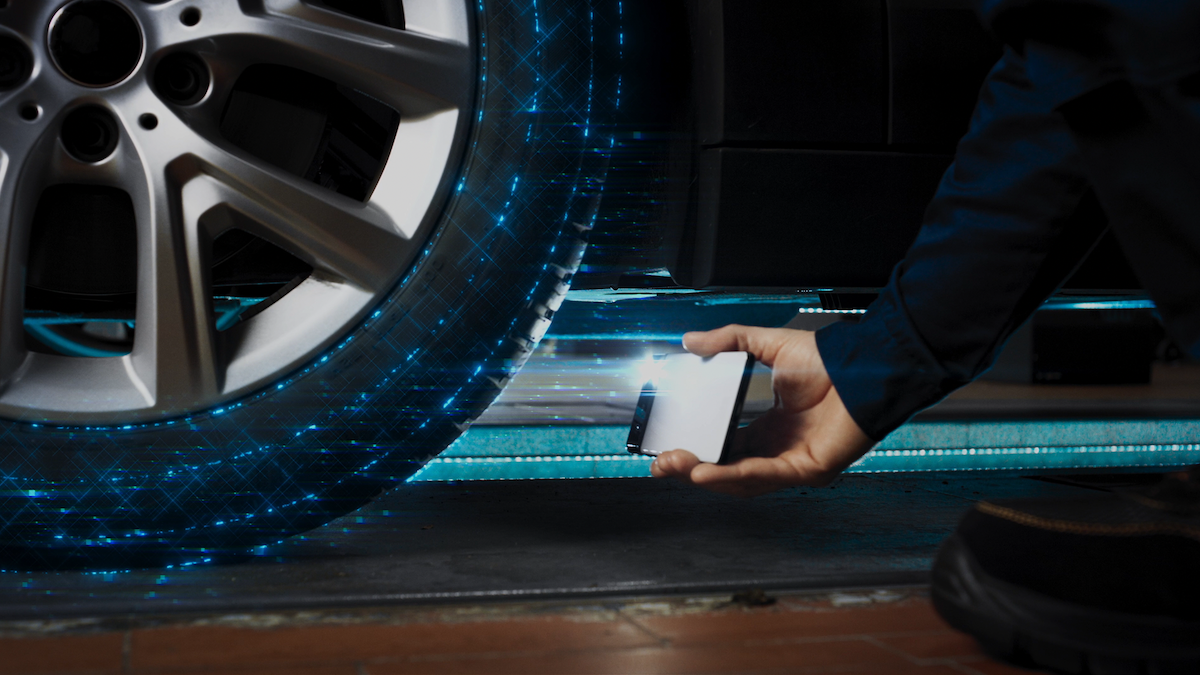 Are you a Tire Dealer Operator? This is the technology you need to have in 2023
Technology within the automotive industry is rapidly expanding, especially in the tire dealership and servicing sectors. And as new innovation and solutions continue to emerge in the market, it is becoming clear that a proactive approach to new technologies is the one with the most success. It is with this in mind that we present our list of must-have technological solutions for tire dealer operators in 2023. 
In this blog post we cover following subjects and topics: 
Technology for improving customer engagement

Technology for enhancing worker efficiency

Technology for ongoing staff shortages

Integration of Anyline's must-have technology
Technology for improving customer engagement
We live in what some refer to as the "digital age," but tire dealers know it's also the "customer-centric age." Therefore, one of the first things to consider is always: what does the customer want, and how can we deliver it?
Sustainable tire design
In the times of climate change, sustainability is one of the main focuses for current and future generations. For a vehicle, this starts with something as quintessential as tires.
Sustainable tires, which use recycled and recyclable materials from sustainable sources, focus on manufacturing products with lower rolling resistance. The aim is for these tires to be made from a particularly high proportion of traceable, renewable, and recycled materials. This means, for example, that the natural rubber used in the manufacture of tires is certified and comes from sustainable cultivation. Combined with an innovative design, sustainable tires are said to last longer and therefore need to be changed less frequently. 
Sustainability is definitely something that tire dealers should keep in mind. According to our latest survey, 44% of respondents claimed that they would consider purchasing sustainable tires, and this number is definitely skyrocketing in the near future.
Customer facing mobile applications
Customers of today, who are accustomed to having access to all kinds of information with the tap of a finger, are no longer content with being simply told when to change their tires and which tire suits them best. They would rather have their tire dealers provide transparent insights into the workings of their vehicle and the maintenance process. By providing your customers with bulletproof data, you give them the transparency they want and demand.
A great way, therefore, to engage your customers and keep them up to date is by providing real-time data about their vehicle or tire service. You can instantly document every step of the process and attach that data to add a level of transparency. With the help of these transparent insights, customers then have the ability to make fact-based decisions.
By sharing this kind of data through a customer-facing mobile application, you guide them through every step of your service and keep them interested and informed.
Technology for enhancing worker efficiency
Good tire dealers know how to manage their employees, great tire dealers know that their employees work best when they are equipped with the kind of technology that allows them to work as efficiently as possible. 
RFID tags
So-called RFID (radio frequency identification) tags are already built into some tires, but will soon be found in almost every single tire as an identifier of tire, make, model, and size. These tags allow tire dealers to modernize the supply chain process by wirelessly and almost instantly tracking tire inventory and usage.  
This technology is developing alongside the huge trend of electrification of passenger, light truck, and commercial vehicles. Essential about this is that with this electrification comes both short- and long-term shifts in tire design requirements. However, since the industry is working on automated driver assistance systems as well as autonomous vehicles, it is expected that most monitoring sensors will be part of the vehicle itself rather than the tire.  
Tire size scanner
A tire size scanner makes use of a technology called OCR (Optical Character Recognition), which captures data directly from the tire sidewall, and digitizes it in an instant. Anyline's tire size scanner can be used on every mobile device that is equipped with a camera, such as a smartphone, ruggedized device, or even TPMS devices.

The tire size scanner delivers fast and accurate results, which allows your tire technicians to collect the needed data for their check-ups in a more efficient and stress free way. It even offers the possibility for tire technicians to double check the results by comparing the scanned photo with the tire in front of them. Since the tire size scanner also delivers directly digitized data, this information can be sent directly and stored safely in your existing database.
Last but not least, with an integrated tire size scanner in your system, you can increase both customer satisfaction and customer loyalty by providing your customers with tailored offers. Having your customer's exact tire data at hand allows your company to anticipate replacement options and create a personalized list of suitable tires for your customer's vehicle. Tire technicians can thus fulfill their role as consultants and really take the time to advise their customers instead of rushing to the next customer.
Digitization of Data Collection – License Plate, Vehicle Identification and ID Scanning
Other sorts of scanning solutions that enhance your tire technicians' work are license plate scanning, vehicle identification (VIN) scanning and ID scanning. Like the tire size scanner, these technologies work on the basis of an artificial intelligence called OCR and can capture the needed data and digitize it within seconds. 
Since most maintenance processes start with manually documenting the data of each vehicle and customer, digitizing data capture speeds up the turnaround time for each vehicle. It also eliminates the need for your tire technicians to manually write down data, which is prone to human error anyway.
Technology for ongoing staff shortages
Like most industries, tire dealers are not spared from increasing staff shortages. In order to still be able to provide a smooth and customer-friendly experience when purchasing or maintaining tires, many tire dealers are looking for technology to support them in their services wherever possible.
Intelligent tires
Similar to RFID tags, there is the technology of sensorization of tires, which connects tires to the vehicle for safety and performance. Moreover, it integrates tires into the total vehicle management system, including maintenance.
The implementation of this technology can be found at Pirelli, which uses intelligent tires to send information regarding the road surface to the vehicle via the 5G network. This is made possible by sensors in each tire, which collect important data for safe driving – such as type of tire, tire pressure, and tire temperature –  and send it to the car's onboard computer.
To sum up, this technology makes vital data easily accessible for vehicle owners and tire technicians alike. For overworked tire technicians, this means a reduction of workload, since they don't have to check every vehicle for basic tire information anymore and can focus on what the computer can't do – weighing the situation and advising their customers.
Tire tread scanner
Another type of technology that takes pressure off tire technicians is Anyline's world's first mobile tire tread scanner. It works by simply pointing the camera of any standard mobile device at the tire and swiping it over the tire tread to be measured. It makes use of state-of-the-art AI and computer vision, in order to create a 3D model. This 3D model of the tire tread allows accurate digital measurements of the tire tread depth using any mobile device, which can then be instantly stored and shared with customers.
This technology also compensates for staff shortages, as the mobile tire tread scanner can be integrated into any tire dealer's existing system. The data collected can then be stored, and you can proactively contact your customers to arrange any required maintenance or inform them when it's time to change their tires. Another aspect of mobile tire tread scanners helping out with staff shortages is that it makes the use of complex and single use hardware devices, which can only be handled by a few specialized mechanics, redundant. With a mobile tire tread scanner, a single technician is able to perform a vehicle check in a parking lot or a garage shop with one single smart device at hand.
Moreover, Anyline's mobile tire tread scanner helps make sure that your customers are always safe on the roads. Since the mobile tire tread solution is made for everyone, tire technicians and customers alike can start scanning tire treads without training and receive consistent, objective results. That way Anyline's mobile tire tread scanner changes the face of the automotive industry.
Integration of Anyline's must-have tire technology
Anyline's Scanning solutions
Anyline's software development kit (SDK) allows you to integrate a tire size scanner, license plate scanning, vehicle identification, and customer ID scanning in your existing apps – whether they are destined to be used by your workforce or by your customers. If you choose to go with a mobile workforce app, you can use the devices your retailers and mechanics already have, since you can integrate Anyline's SDK with TPMS tools and ruggedized devices. 
Anyline's SDK can be implemented into a mobile application as it works with iOS, Android, and UWP and uses the common frameworks of Xamarin, Cordova, and React Native. However, it can also be integrated into your website since it supports JavaScript. 
Anyline's mobile tire tread scanner
The perfect addition to Anyline's scanning solutions mentioned above is the mobile tire tread scanner, which allows you to accurately measure tire tread depth by using state-of-the-art AI and computer vision. Anyline's world's first mobile tire tread scanner can be integrated through an API into workforce or consumer-facing apps.
With Anyline's technology, you help make the roads safer and have objective and trustworthy results at your disposal. All those technologies can be integrated into one system, so that you as a tire dealer, are always up to date.