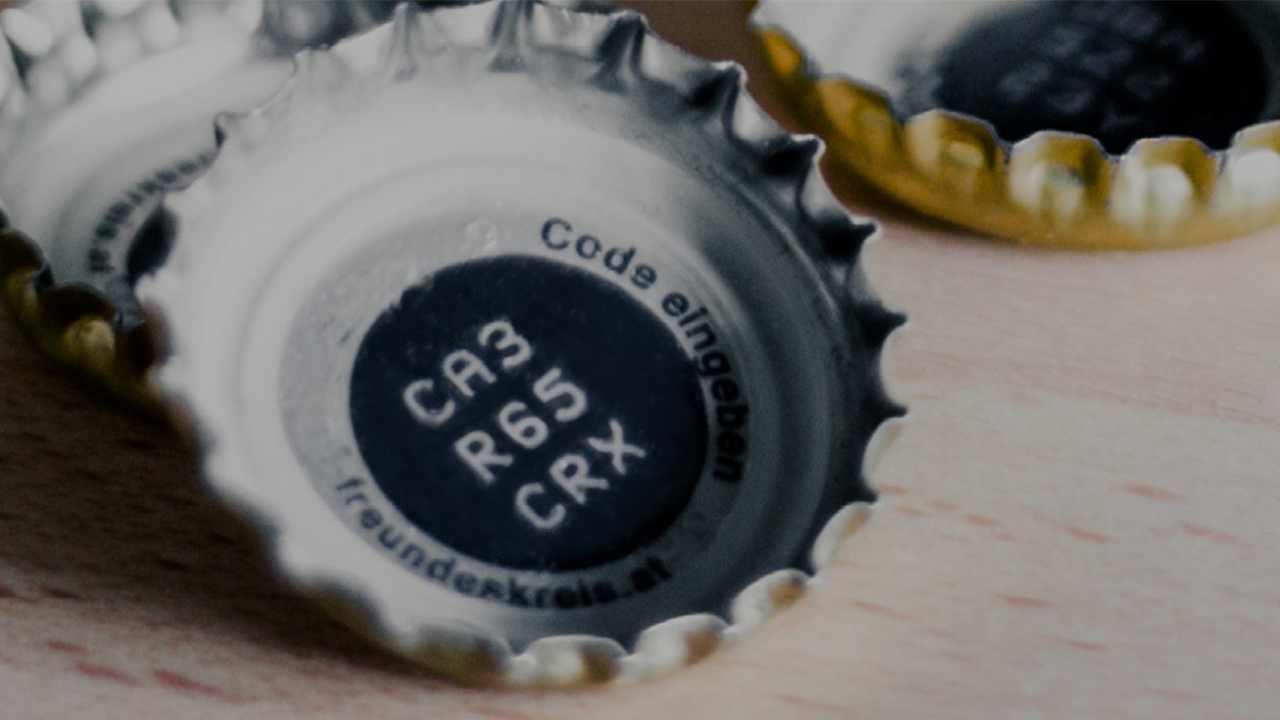 How to Push Your Marketing Campaigns with Mobile Bottle Cap Scanning
Mobile bottle cap scanning is the perfect mobile solution for launching promotional campaigns, loyalty programs and giveaways. Your customers can use mobile scanning to participate wherever and whenever they like. All they need is their smartphone to get involved!
Mobile scanning is a cutting edge way to collect and process data. You can integrate it into your mobile app to create an improved user experience for your customers. In addition, it will improve your data collection processes. Best of all, it will save you time and money by bringing digitization to new areas of your business.
Find out how you can benefit from mobile scanning and how easy it is to integrate into your mobile app below!
Mobile Bottle Cap Scanning is Fast and Accurate
Anyline's mobile OCR technology is +99% accurate. This high accuracy means your customers will have a reliable scanning tool with them at all times and provides many advantages for businesses and teams running bottle cap marketing campaigns. Your customers will need to enter bottle cap codes in your app so they can participate and take advantage of offers.
The issue with traditional methods of data entry, primarily typing, is that customers make mistakes on a regular basis. This prevents participation and leads to frustration on their behalf. When you provide them with a mobile scanning solution like Anyline instead, they have less work to do and enjoy a more fluid user experience.
You can also benefit from the accuracy of mobile scanning in the form of higher quality data collection. You won't need to process as many inaccurate code entries and you can put together a much clearer vision of when and where scanning happens. With this in mind, it's easy to see why accurate data collection should be a priority for all businesses.
In addition to being super accurate, Anyline offers instant results. In some cases, Anyline has been found to be up to 20 times faster than traditional data collection. This speed advantage helps to encourage scanning which will increase customer participation in your campaigns.
Mobile Bottle Cap Sanning is Easy to Perform
Writing down or typing a 6-digit code can be quite tedious in social settings. Once you've typed a code, you need to proofread it to make sure it's accurate. Repeating this process over and over again can get very monotonous and lead individuals to make mistakes or reduce their focus on the task.
Mobile bottle cap scanning is a simple alternative that doesn't require high levels of concentration to be performed accurately. You just need to point your smartphone camera at your bottle cap code and Anyline will automatically perform a scan.
Anyline's user interface (UI) includes a number of features to make scanning as intuitive as possible. Haptic feedback and a cut-out area help you to make scanning easy and fun. There are very few user-actions required and scanning is performed the same way for all bottle caps.
Mobile Bottle Cap Scanning Works Everywhere
Scanning with Anyline works everywhere. One of the biggest advantages of mobile scanning with Anyline is that you can perform scans even without an internet connection. Anyline processes 100% of scan information on your mobile device. No data is sent to the cloud where it can be intercepted or corrupted.
You can perform scans in nightclubs, beer gardens, or any other location that isn't readily serviced with an internet connection. Normally, your scan results can be immediately uploaded to your database or backend to complete queries or record data. With offline scanning, you perform your scan, and then once you find a secure internet connection, you can safely upload your scan data.
Bottle Cap Scanning Success Stories
How Landskron Brewery Launched Their Rebranding Campaign with Anyline
Landskron Brewery, Pixelflush, and Anyline collaborated to launch the new Landskron customer loyalty program. The Landskron Brewery has been in operation since 1869 and is one of the most important breweries in Germany. It's also one of the last breweries applying the open fermentation process, ensuring high-quality standards.
The marketing action was part of a broader digital rebranding campaign, aimed at keeping up with today's standards of innovation. Both the design and technical part of the digital rebranding was developed by Pixelflush. They're professional developers of scalable APIs for mobile apps. Pixelflush worked in close collaboration with the Landskron marketing team for this rebranding campaign.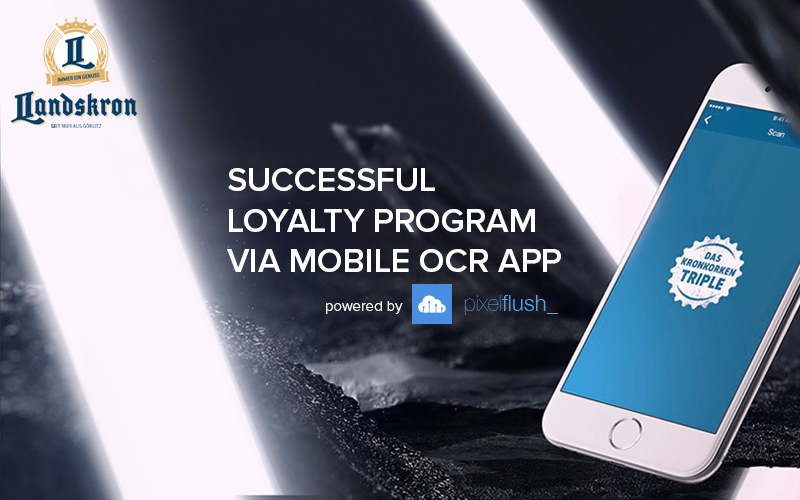 Improving Customer Engagement
The big question that all customer loyalty programs need to answer is how to maximize customer engagement. In this case, Landskron needed to motivate beer enthusiasts to collect codes printed on the inside of bottle caps. The traditional approach is to set-up a webpage or an app where the codes can be typed in.
However, Pixelflush found a solution that matched the ambition of launching a modern digital brand image for Landskron – mobile OCR.
Mobile OCR provides a number of innovative features when compared to a webpage, such as:
Code scanning is simple and gives you immediate results for winning codes
Safe digital transmission of the collected data to a central platform for storage
Interactive and fun app feature that saves time for every app user
Anyline as Solution Provider
Pixelflush chose to integrate Anyline's mobile scanning technology for various reasons. The biggest selling point was the fact that Anyline supports React Native. This lets you develop for iOS and Android at the same time. The app was quickly set up and the integration of the Anyline mobile bottle cap scanner was quick and easy.
Results of the Bottle Cap Campaign
There was a large number of downloads and over 18% participation rate in the months that the campaign ran. This was much more than expected.
The scanning process worked particularly well and was well appreciated by the app users. They found it easy to scan, there were no mistakes or time loss from typing, and they got immediate scan results.
How Karlsberg Engaged More Customers with Mobile Scanning
Karlsberg wanted to enable their customers to easily participate in their promotions while consuming their product. The brewery already seized the opportunity of the last Football Championship to start the Karlsberg Urpils bottle cap marketing campaign. By printing codes inside bottle caps, they incentivized their customers to collect the bottle caps, type in the voucher codes, and participate in their promotion.
Boosting User Engagement with Bottle Cap Scanning
After the Championship was over, Karlsberg discovered that they must launch a mobile version of their campaign to best serve their customers. They wanted to let customers collect the voucher codes at any time without having to type them in on their computers. Karlsberg's goal was to make customer engagement super simple.
Voucher Code Scans with Mobile App Integration
The idea for the Karlsberg Urpils app was quite simple. They built a mobile app for Android and iOS that can easily read the 6-figure alphanumeric code printed inside of the bottle caps. This gives users the additional opportunity to simply scan voucher codes instead of only being able to type them in.
Karlsberg realized they would need a mobile scanning solution that was fast and accurate. It would also need to be designed in an appealing way so that customers would enjoy using the app while consuming their products.
Based on the Anyline SDK, the Karlsberg Urpils app was developed to easily read the 6-figure alphanumeric codes inside bottle caps. Once the customer downloaded the app to his/ her smartphone, which is available for Android as well as for iOS, all you need to do is scan the inside of the bottle cap. Accessing the smartphone camera, the integrated mobile scanner uses OCR technology to identify the small numbers and letters on the inside of the Karlsberg Urpils bottle cap.
In almost any case, mobile scanning solutions are faster than users typing in codes manually, which makes it not only more rewarding but also more convenient! Scanning voucher codes is a modern and easy way to increase customer engagement.
Save Time & Reduce Costs with Mobile Bottle Cap Scanning
Improve your customer experience and upgrade the quality of data capture with mobile bottle cap scanning – all while saving valuable resources. Anyline mobile scanning technology uses artificial intelligence and machine learning to provide you with fast and accurate solutions for smart data capture.