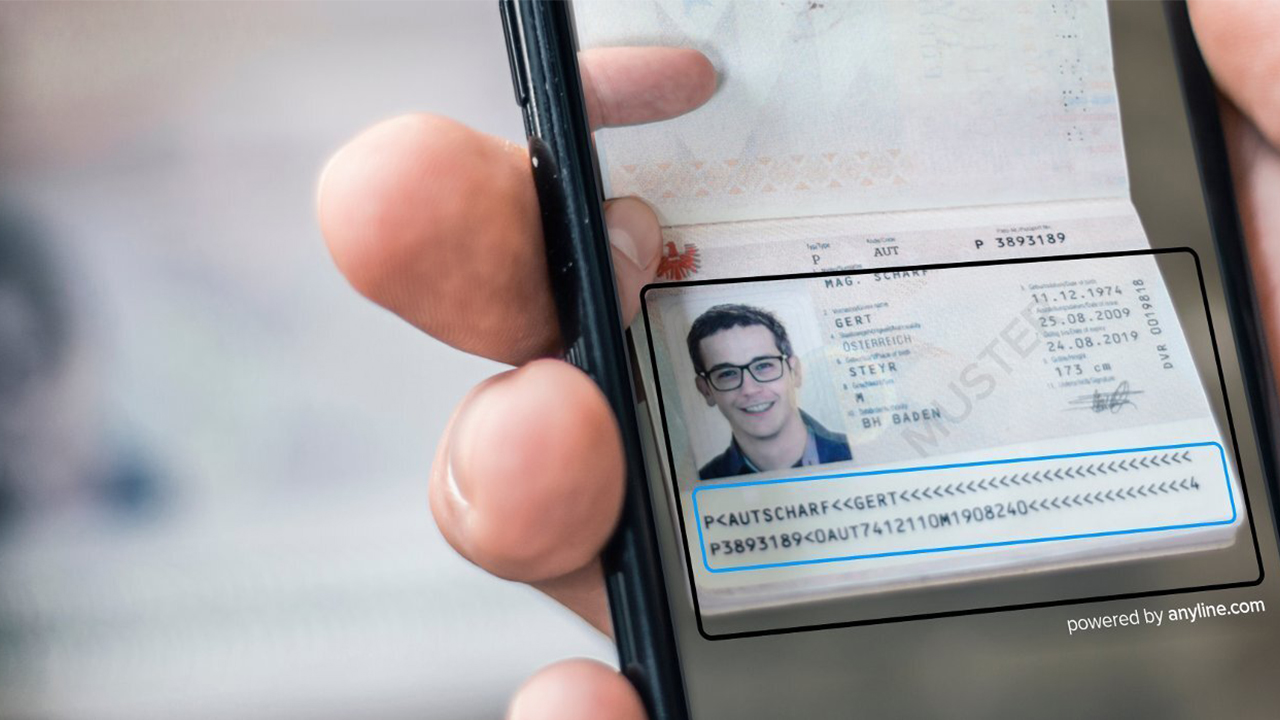 ID Scanner Apps: Everything You Need To Know
ID scanning is an instant and reliable way to gather personal information from your users, customers, and clients.
But with Anyline mobile scanning, you can use a simple mobile app or website to read ID cards, passports, visa documents, driving licenses, and other standardized ID formats. And the best thing is, all you need to get started is a regular camera-enabled mobile device.
Once you include an ID scanning feature in your mobile app or website, you will immediately save resources, reduce data entry errors, and improve the user experience for your customers and employees. The integration process is quick and painless, allowing you to focus on the more important aspects of your app or website. All you need to do is get started!
How Mobile ID Scans Improve Data Quality
Mobile scanning of ID cards & documents also removes human error from your processes, which improves the quality of your data. Inaccurate data entries are a huge issue when looking at data sets.
According to one study, poor data quality can cost brands up to 6% of their revenue. Another study found that bad data was costing the US economy €3 trillion. As well as that, a 2017 study suggests that 84% of CEOs have doubts about the quality of their own data, which they use to make important decisions.
By using mobile ID verification technology, you can improve your data quality and enhance your abilities to make informed & accurate business decisions.
Mobile ID Scanning Solutions are Secure
On top of being accurate, mobile ID scanning with Anyline is secure. Our mobile ID scanning works offline too. This means none of your data is uploaded to 3rd party cloud services for processing. Offline scanning also means that you can scan anywhere, anytime, and then upload the results to your database & backend system, once you find a secure connection. So you can keep control of all your data while collecting it from anywhere in the world!
How a Mobile ID Scanner Optimizes UX
A mobile ID scanner is the perfect tool to replace manual typing in all your ID-related processes. The removal of typing optimizes the user experience of your apps & websites, as your users, clients and customers save valuable time. Mobile ID scanning & verification solutions can be up to 20 times faster than manual typing. Your users save time, enjoy the instant processing of data and can focus on your content and business.
Anyline's OCR technology has a much faster average completion time for onboarding and verification processes compared to any manual data entry processes.
Save Time & Reduce Costs with Mobile ID Scanning
Mobile ID scanning can read & process data from many standardized ID documents in an instant. Once you have a target document in front of you to scan, you just point your mobile device at it and our mobile scanning technology does the rest. Not only does this streamline daily processes, but it allows those who use the technology to be more efficient & aware of their situation.
From a police officer patrolling the streets with mobile policing to keep us safe to the front desk agent of a hotel using contactless check-in technology to welcome the guests and even airline & airport agents welcoming a passenger with mobile contactless onboarding: No matter the industry, digitalizing your ID data capture process is a game-changer.
Save Time with Mobile MRZ Scanning
Instant mobile ID card scanning and mobile machine-readable zone (MRZ) scanning can significantly reduce the time it takes to complete various business processes. Primarily, this solution allows you to quickly remove typing and manual data entry from the daily routines of your workforce and customers. A mobile MRZ scanner instantly removes many hours of unnecessary working time from your workforce, saving you money while increasing productivity.
Not only is typing and manual data entry time-consuming, but it can also lead to inaccurate data entering your backend system, complicating your business processes. Removing these blind spots with mobile scanning technology will allow for a more efficient workforce, giving them further time to focus on primary responsibilities.
Scans of MRZ fields are be up to 20 times faster than entering the data from a single piece of identification manually. Multiply that by every piece of ID you are currently collecting and you will see just how much more efficient your processes can be.
Scan IDs Anywhere with Mobile Scanning Technology
Anyline's mobile ID scanners and MRZ scanners work in any location and under all conditions thanks to our offline scanning feature, giving accurate data collection without the need for active internet access. The data processing is done on the mobile device directly while the results are then uploaded to your own backend system as soon as the device has regained a data connection if needed.
Mobile ID Scanning without Limits
As we previously mentioned, Anyline processes all the data directly on your mobile device. With data security being a priority for us, none of your data gets uploaded to third party services for processing, including our own servers. This offline scanning functionality provides increased security and offers an additional layer of protection for your data security.
This also means that you can perform scans even when you don't have an active mobile internet or wifi connection.
With this advanced agility, your app or website can be used anywhere to scan ID documents. Your workforce can set up impromptu ID checks and your users can register for your service in any location. You can even perform instant ID scans in poorly lit locations thanks to Anyline's automatic flashlight activation feature.
Remove Dedicated Devices From Your Processes
Many scanning processes are completed using dedicated devices, no matter the industry. Transitioning this to the use of mobile devices has many advantages when it comes to scanning. One advantage is the capacity to perform multiple forms of data scans from one device.  Additionally, dedicated devices are traditionally fixed to one location due to power or maintenance requirements.
With the added agility of mobile ID scanning, you can proactively approach potential bottlenecks in your processes. Dedicated scanning devices also require special training in order to be operated optimally. Mobile scanning, on the other hand, is a simple and very intuitive procedure that requires minimal training to perform accurately and quickly.
Adopting mobile scanning is the perfect opportunity to reduce training and equipment costs while embracing your digital transformation.